I am super excited to share Write Through the Bible, Junior with you. I have been so pleased to use and enjoy the books and curriculum produced by the Gilkerson's. This is just another one to be thankful for.
*This post contains affiliate links*
It is my opinion that Write Through the Bible, Junior is superbly laid out. Incredibly functional and user friendly. A boon to the over-burdened and the super-star mother alike.
This is a curriculum that the whole family can have a part in (to some extent) or you can choose to savor all the goodies for your young child.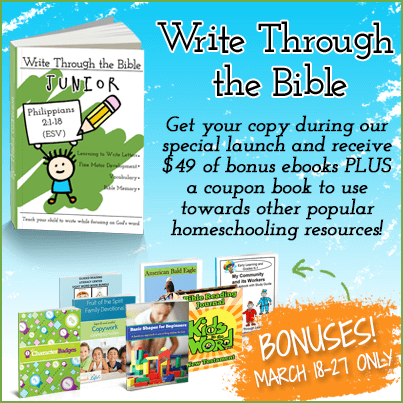 How Do I Use this for the Whole Family?
We choose to use the following portions of the curriculum for our family as a group:
New (or old) vocabulary
Discussion of scripture and understanding of word usage
Scripture memorization and application
Prayer time
These are all included in the curriculum and are easily adaptable for your child or family. There is certainly no need to do these as a whole family. It might even be best if you let this be a special time for you and your littlest ones.
So you understand, Write Through the Bible, Junior is directed to the ages of 4-6 year old children, or to those who are being introduced to the alphabet. It is also meant to serve as a full-year curriculum.
I see this as friendly to those who may have some developmental delays or need extra practice with their writing skills. That is how we are using it in our family. My youngest writes and reads well, however, she has some fine motor skills that I did not correctly train her with in the early years.
I have been told by a brain and body integration specialist that although she need not re-learn everything, certain practices like this will do her good in the long run.
What will our children gain by working through this curriculum?
This program was designed to incorporate several subjects in one. Below are a few things your child will learn as they work through this book:
Improve fine motor coordination
Learn letter sounds
Learn how to form letter
Memorize Philippians 2:1-18
Learn new vocabulary words
Study Philippians 2:1-18 and learn what it means to have a heart of humility.
Now do you see why I am using some of the tools in the curriculum for my whole family? I love multitasking.
Check out what you can get: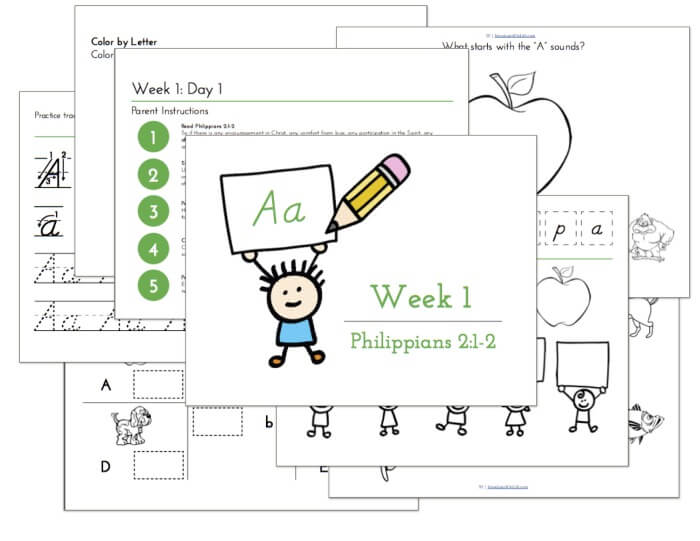 What will Mama gain by using this?
Mama will have relief from feeling burdened to put all things together. If you are too busy to give more energy to your little ones, this will take the prep work out of it. I also believe that it will cause a sense of peace and joy to overcome you as you focus on the simplicity of teaching your child.
If you have not been able to have alone time with your younger ones this will be something that the two of you (or 3 depending on how many "littles" you have) can treasure together.
What you get with Write Through the Bible, Junior:
In addition, this full-year program is very affordable costing just $17 for the digital download or $27 for the softcover book.
You Get Options!
Write Through the Bible, Junior is available in a number of options you can choose from.
Formats
Bible Translation
Fonts
Ball-and-Stick Manuscript
D'Nealian Manuscript
Cursive
Would you like to download a sample lesson before purchasing? Head over to Intoxicated on Life, where you can download the first lesson for free.
Purchase Now: Receive $49 in Bonuses!
During the launch of Write Through the Bible, Junior you can take advantage of these exciting offers! These are good for 10 days only, so don't delay. This special ends on March 27, 11:59 PM.
Worth $49, this is the perfect time to purchase your workbook. Be sure to fill out this form after purchasing, so you can receive your bonus offers.
• Coupon book with fantastic offers from popular homeschool publishers.
• 7 bonus books worth $49 to use with your child!
You'll receive all of these bonuses after purchasing the digital download for just $17 or the softcover book for only $27.
After purchasing your digital download or softcover book on Amazon, please fill out this short form where you will then be redirected to a page where you can download your bonus offers.
I hope you choose to take part in these awesome Launch options. If not, maybe you are tight with money at the moment or something like at, be sure to keep this page in your favorites to be able to purchase in the future.
And who knows, I might just be doing a giveaway for this real soon. So keep your eyes peeled 🙂
Blessings!
Amanda
So what have you found to be effective when your toast and you know you need to spend quality educational time with your little ones? If you have any questions, please feel free to contact me or leave a comment!